As per the Vedic astrology, Emerald is a valuable and influential gemstone which represents the powerful planet Mercury. The eye-catching green colored gem can turn out to be a boon for people with afflicted Mercury. Its color ranges from bluish green to deep green. Astrological benefits of Emerald (Panna) Stone are adored since years by its wearers. It is known to be a stone of love, prosperity, success and growth.
Emerald stone benefits
From astrological point of view, emerald is regarded as the highly effective gemstone with tremendous benefits. Wearing this precious gem can bring many benefits to its wearers.
• Represent love and prosperity
The gem is adored to prosper the heart of the wearers. It helps them to be more loving to one's own self and others. It has a positive energy which can wrap you up for the desire to love. It also tends to bring back the lost and fade up energies in an existing marriage.
• Improves speech and communication skills
The gem leads to an increase in self confidence of the wearers which can enhance their ability to communicate without hesitation. It also tends to resolve the stammering problem. If a person is shy or feels difficult to initiate conversation he/she must definitely give a try to this gem.
• Healing properties
The gem is blessed with several healing powers. It can be helpful in healing skin related issues such as allergies. It can also benefit in healing respiratory diseases, nervous disorders, kidney related issues and diseases of the eye. It also tends to strengthen the functions of your heart.
• Emotional stability
All human beings work endlessly in order to achieve their aim which disturbs their emotional stability upto some extent. The gem helps the wearers to be emotionally stable and allows them to act wisely in difficult situations. It helps us to encircle ourselves with positive vibes and brings optimistic changes in their personality.
• Enhances creativity and innovation
The gem helps the wearers to increase focus and concentration in the field of education and business. It enhances the ability of the wearers to think and act creatively and promotes innovation. It helps them to make smart progressions in life.
These astrological benefits of emerald (panna) stone attracts people to wear it and allows them to get tremendous Emerald Stone Benefits.
How to wear an Emerald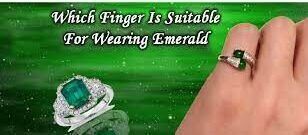 Gemastro.com makes you aware that wearing the precious gem emerald in a correct manner could let the wearer achieve the maximum benefits of the gem. You need to wear the gem on Wednesday early morning in either your little finger or around your neck as a part of locket.
The gem needs to be energized with the powerful mantra Om Bum Buddhaye Namah. This could let you achieve best results