Citrine, also known as Sunela, is a semi-precious gemstone coming from the variety of the Quartz mineral family. The color of this gemstone ranges from yellow to golden-brown, however this color oftenly by low heat. The Citrine gemstone is popularly worn as the substitute (upratna) to the Yellow Sapphire gemstone for financial success, reputed image in the society, more knowledge, health and progeny bliss.
The Citrine gemstone can also be used as the alternate birthstone of November according to the western astrology.

Benefits
Price
Quality
Who Should Wear?
FAQs
Benefits
For ages, the Citrine or Sunela gemstone is known for its various metaphysical properties and its ability to cure. Beside its fascinating beauty and affordable prices, the astrological benefits of Citrine gemstone also makes this stone more desirable. Below are some of the most famous Citrine benefits:
FOR PROFESSIONAL AND FINANCIAL SUCCESS
PROMOTES HIGHER LEARNING
BENEFITS IN MARRIAGE
HELPS IN RESTORING FERTILITY AND MATRIMONIAL HARMONY
Price
As mentioned earlier, the value of the Citrine gemstone depends on the quality, size and origin.
Note–Presently, the Citrine stone price in India lies anywhere between Rs 25 per carat ($.5/ carat approx.) to Rs 400 per carat ($6 approx.) and above. Citrine prices in other countries like the USA, UAE and UK may differ due to the changes in the demand and supply rates.
Origin – Brazilian citrine gemstones are the most desirable variety and hence the prices remain high compared to other origins. However, if the color and clarity are good, Citrine gemstone from any origin can have a good value in the market.
Color – Color is another important factor when it comes to deciding the price of the Citrine gemstone. Citrine stone prices are usually more for uniformly saturated gems in bright yellow, golden yellow or reddish-orange hue. Citrine with poor color intensity, low saturation, smoky bottom or color zoning is considered less attractive and is therefore sold at a lower price
Clarity – The amount of transparency and inclusions (volume, location and density) also affect the Citrine cost. The higher the number of inclusions, the lower is the Citrine gemstone price. Hence, the price is often more for clear gems with good transparency.
Cut – Highly customized fancy shapes such as emerald cut, cushion cut etc. are priced much higher than other natural shape stones because cutting leads to more wastage of the stone. Round and oval citrine gemstones are more common and are available at comparatively lower rates.
Carat weight – Large size Citrine crystals are naturally and easily available. Therefore, Citrine cost per carat doesn't increase drastically for bigger gems. However, in certain cases where the quality of Citrine is decent, a slight difference in its per carat value can be observed.
Quality
The four major factors that should be kept in mind before buying the Citrine gemstone online or from a local shop are: color, clarity, cut and origin. It is said that a natural, untreated and unheated bright golden yellow stone with good transparency is the most desirable Citrine gemstone.
Origin – Citrine is mined in many countries such as Bolivia, Russia, Madagascar, Myanmar, Brazil and the USA. Brazilian Citrines are preferred because majority of Citrine gems coming from Brazilian mines have good color and clarity. Some good quality material also comes from the African mining regions.
Color – Loose Citrine gemstones are available in a variety of shades with special names such as 'Lemon Quartz', 'Lemon Citrine', 'Smoky Citrine Quartz', 'Lemon Green Citrine', deep reddish yellow 'Madeira Citrine' and 'Champagne Citrine' etc. It is recommended to not get fascinated by the fancy names and go for a natural bright yellow to slight golden yellow Citrine with uniform consistency and medium saturation.
Clarity – Citrine is categorised as a Type I clarity gem which means they are expected to be have nearly zero inclusions. Natural inclusions such as negative crystals, two-phase inclusions, liquid inclusions and partially healed fractures can be found in the medium to low-quality stones. A transparent Citrine gemstone with minimum visible flaws is considered best for astrological purposes.
Cut – Citrine can be found in a variety of shapes (round, oval, emerald, square, trillion, pear etc.) and cuts (princess cut, cushion cut, round). The shape and cut is mainly associated with the beauty of the stone and bears no relation to the astrological properties of the gemstone. So, we suggest customers to choose a shape that brings out best color and enhances the overall brilliance.
Who Should Wear?
People who prescribed to wear yellow sapphire may wear citrine due to budget.it is quite cheaper than yellow sapphire.
Indian astrology connects Citrine (Sunela rashi ratan) with the benevolent planet 'Jupiter'. It is said that wearing a good quality, natural Citrine makes the Jupiter in the wearer's birth-chart stronger and helps the wearer to gain higher knowledge, wisdom, good financial status and professional success in life.
Vedic astrology suggests Citrine for Dhanu (Sagittarius) and Meen (Pisces) rashi.
Western astrology recommends Citrine for Sagittarius sign.
Citrine gem can also be worn by Aries, Cancer, Leo & Scorpio.
FAQs
Which one is more effective- Thailand Yellow Sapphire or Citrine?
In case you can't afford the Sri Lankan yellow sapphire, Citrine can be the next preferred astrological alternative. Do not wear yellow sapphire from Thailand in any case as it is highly chemical treated can cause further problems. This is because Citrine is a substitute, and is usually not considered as effective as the natural Yellow Sapphire gemstone. It may also take slightly longer to show its positive effects in the wearer's life. But for those who have a budget issue, can wear Citrine to gain some relief from the astrological point of view.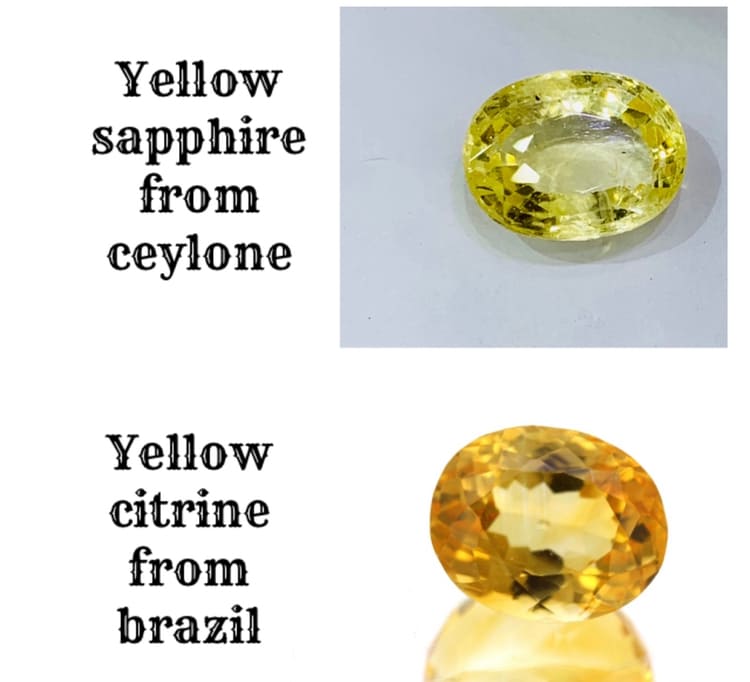 How to wear the Citrine gemstone?
The wearing process of citrine is same as that of yellow sapphire as both these gems are related to the planet Jupiter. The following things can be kept in mind while wearing the citrine gemstone:
Finger: Index finger of the working hand
Day and time: Thursday morning, 5-7 am
Mantra and chanting times: Aum Brim Brihaspataye Namah, ॐ बृं बृहस्पतये नमः
(108 times)
How to make out difference between citrine and yellow sapphire?
See the pic and you will see the difference.
Showing 1–20 of 39 results