Red Coral Stone, also known as Moonga, is a deep orange red organic stone created in the deep sea by sea creatures called coral polyps. The Red Coral Stone is highly beneficial in managing Mangal Dosh and ensures success in management roles, Sports, Business & Health.
The Red Coral is recommended to strengthen weakened Mars (Mangal)  in a person's horoscope or to reap positive effects from its central position. Red Coral gemstone is generally found in Italy Taiwan and Japan.
Benefits
Price
Quality
Who Should Wear?
FAQs
Benefits
Red Coral is very effective for people suffering from the ill effects of the Mangal Dosha. It is believed that the native can easily go through this phase by wearing the Red Moonga gemstone.
Beneficial for Real Estate Business
Success in Team Management, Administrative, Leadership Roles
Improves Digestive Health & Immunity
Price
Red Coral Prices
The price of the Red Coral gemstone depends on the origin, color, shape and overall clarity. The Red coral prices can range anywhere between ₹ 200to ₹ 8000 3$to 145$) per carat. In addition to that, other factors like natural availability and artificial treatment can significantly influence Moonga stone prices.
Origin – The most preferred Red Coral variety is found in Japan which is highly rare and thus attracts very high values ranging from ₹ 5000 to ₹ 12000 (75$ to 180$per carat). Italian red coral price range also  remains on higher end, ranging from ₹ 200 to ₹ 4000 (8$ and 65$) per carat (depending on quality). Indian red coral is comparatively cheap and more affordable.
Taiwan coral is priced between ₹1000 to ₹4000/ carat ( 12$to 50$/carat)
Color– Bright red, orangish ref ,lustrous corals are more desirable over dull, faded or pale ones. Moonga stone price per ratti increases relatively with vividly saturated and bright red gemstones.
Shape – Red coral gemstone is an organic gemstone that can easily crack from pressure and sold in and as cabochon gemstone in oval, round, capsule and triangular shapes. If quality and weight remain the same, round and heart shape coral gemstones are costlier than other shapes.
Clarity – Clarity of red coral is measured by how bright and smooth its surface is. Stones carrying flaws, pits and spots are priced comparatively lower. Moonga ratna price is significantly high for a spotless, lustrous red coral.
Carat Weight – Corals are rarely found in large sizes, implying that a smooth, spotless red coral weighing above a few carats is priced with respect to the availability.
Treatment – Red coral is treated to enhance its color but can be synthesized in labs as well. Artificial gemstones occur in and as plastic, wood or polymers. An original red coral is significantly costlier than the fake ones. Therefore, we recommend to buy red coral that is certified by recognized laboratories to avoid getting fooled by con dealers.
Gemstone prices in India are calculated both in Carats as well as Ratti. Red Coral price per carat always amounts equal to Red Coral price per ratti.
1 Ratti = .91 Carats
Quality
Red Coral Quality
The best quality Red Coral gemstone comes from a reputed origin, exhibits bright red color with a smooth, flawless, shiny surface.
Origin – The most desirable Red Coral gemstone is found in Italy. Italy is known for delivering fine quality red corals for more than two hundred years. However, other origins including Japan, India, Algeria, USA and Taiwan are also recognized throughout the world for producing high quality, natural red coral gemstones. Australian and Taiwan red corals are more preferred for ornamental purposes.
Color – Red coral does not come in a varied range of tones but its color changes in intensity. Its color can range from warm red to deep pink to deep red. However, Ox-blood red coral displaying bright red with tint of orange is more demanded in gemstone markets.
Clarity – Red Coral gemstone is an opaque and dusky gemstone, clarity in red coral is analysed by its surface markings, texture and shine. Inclusions in red coral may be seen as blemishes, black spots, groove pits or wood grain effects. A red coral that is smooth, lustrous and spotless or as inclusion-free as possible is considered of the best quality.
Who Should Wear?
Since Red Coral gemstone is related with planet Mars which is considered a brutal planet showcasing courage, confidence and physical strength. Red coral is suggested to strengthen weakly placed mars in a person's horoscope or to take advantage from its convenient position.
Moonga ratan can be worn by Mesh (Aries) and Vrischik (Scorpio) Rashi. Western astrology recommends red coral for Aries.
Red coral can also be worn by people with the following zodiac signs- Sagittarius, Pisces & Leo.
How to wear Red Coral?
Weight– 2 to 4 carats.
Color– Deep red
Metal– Gold, Silver or Copper Ring.
Finger– Ring finger of either of the hand.
Day and Time– On Tuesday morning, between 11 am to 1 pm, wash red coral with Ganga Jal for 5 minutes.
Mantra & Chanting Times– Aum Ang Angarkay Namah , ॐ अं अंगारकाय नमः (108 times)
FAQs
Which stone is associated with Red Coral gemstone?
This stone is associated with Mars (Mangal) Planet as per Indian astrology. Mars is a masculine planet radiating intense & fiery energy. Mars governs Soldiers, warriors, athletes, pilots, farmers, miners, constructors and property dealers.
How to identify fake Red Coral Gemstone?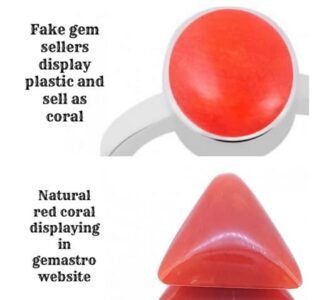 How should I wear the Red Coral gemstone?
Coral is worn in the Ring finger on Tuesday. The ring should be made of Copper, Gold or other yellow metal alloys.
Which Red coral gemstone is better- triangular or round?
 No, the shape of gemstone has no effect on its astrological value. Red Coral astrological benefits depend on the weight and quality of the gemstone. Triangular Red Coral or 'Tikona Lal Moonga' is more of a fashionable statement than for astrological purpose and is usually sought for ornamental purposes.
How can i make difference between a fake coral from the natural one?
Yes you can make out easily ,just put a drop of water in coral if the drop of water spread though entirely in the coral it means its a fake one and if the drop remain as it it no spreading then its a Natural coral
Second method to make out difference see the image.
Showing 1–20 of 81 results